Tiny house program
Australia's Only Hands-on Tiny House Building Course with Reclaimed Materials!
Inspired by an international social movement that promotes simplicity, sustainability and living with less, our Tiny House course is the only intensive, hands-on, tiny home building experience in the country.
The Bower's focus is on using recycled and reclaimed materials to construct these tiny homes. We have saved over seven tonnes of building materials from landfill in the process of building seven Tiny Houses since we first introduced the course in 2014.
Tiny House for sale
Our Tiny House built in the July 2023 course is now available for purchase. built to lock-up stage with all exterior work complete and a loft big enough for a double bed built internally. It's now completely weather-tight and ready for internal fit-out.
Price range – $23,000 – $28,000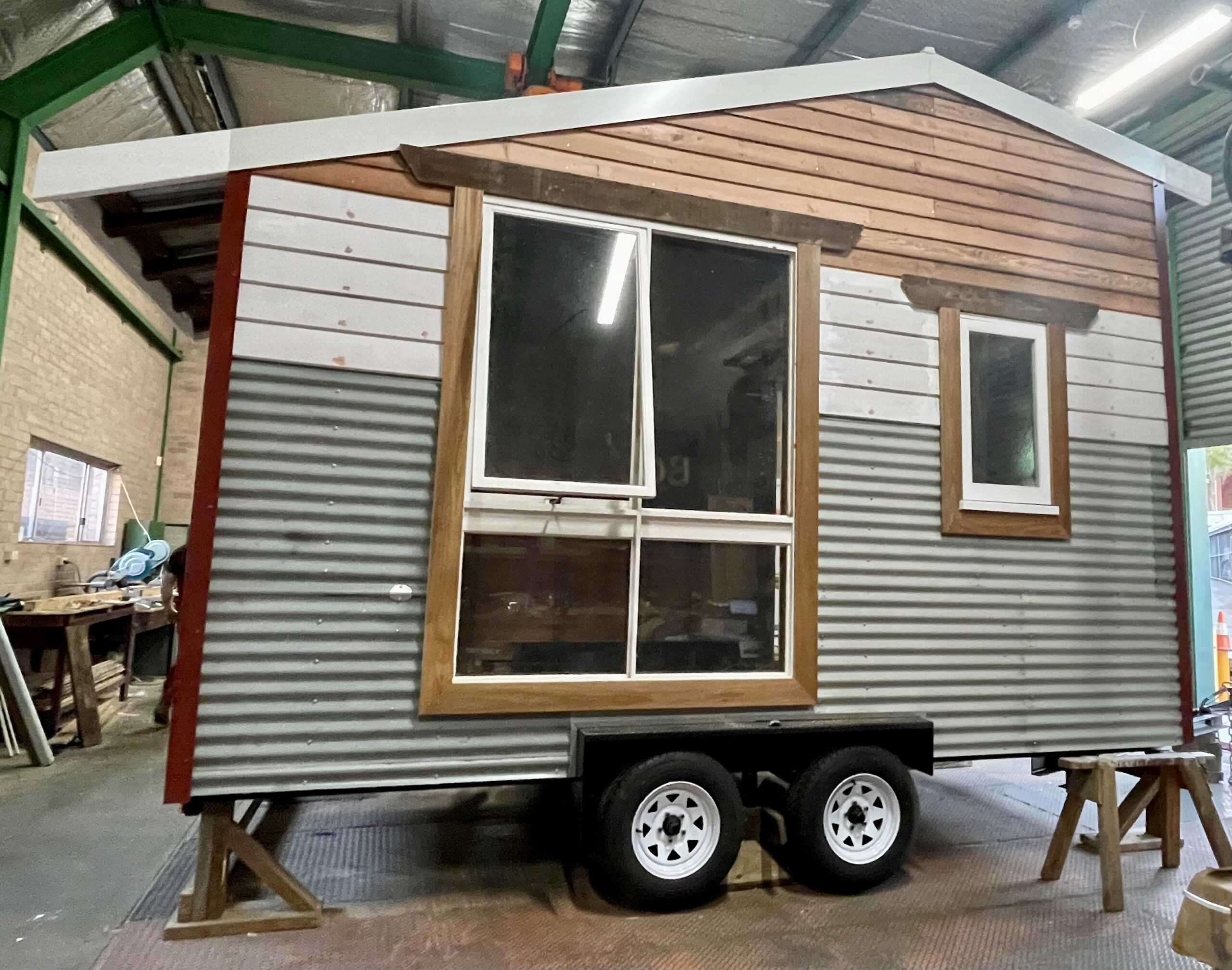 Next Course Details – June 2024
Name – The Bower, Tiny House Course
Dates – June 5-10 2024 (9am – 5pm) & Oct 14-19 2024(9am – 5pm)
Cost – AUD $2,700.00 (GST Included)
Location – 7 Prospect Rd Summer Hill
No prior experience is necessary. We welcome beginners, experts, the curious and the adventurous. During the course you will work as part of a team to construct a tiny home to lock up stage. Along the way you will acquire knowledge and skills that will last you a life time.
Register for June course
What Will I Learn?
You will work with three professional carpenters and your fellow course participants to build a tiny home over a six-day period. You will gain firsthand experience of the following:
Considerations when choosing a trailer
Building a frame and getting it right
Insulation and cladding
Roofing and flooring
Sourcing and working with reclaimed materials
Using a variety of power and hand tools
The what, where, why and how of tiny house living
Course outline
Ours is a comprehensive and hands-on learning experience.
Following a detailed introduction and OH&S induction, the course facilitators will lead you through the design for the Tiny House being built during the six-day course. You'll be taught about considerations for selecting a trailer on which to build a moveable Tiny House, including size, weight and towing restrictions. You'll then be shown how to prepare the trailer for building upon and begin attaching the sub floor framing and lay the floor of the Tiny House.

Introduction
OH&S safe work site overview.
How to work with salvaged building materials
Purpose and proper use of power tools
Trailers, towing and preparatory work
Attaching sub-floor to trailer and laying the floor
You'll learn how to build light timber frame walls and the theory necessary to convert your ideas into construction plans including stud spacing, calculating window and door openings, lintels, corner framing. Together as a group, you'll cut all the timbers for the wall frames, join each wall frame together and stand the walls on the trailer. Then square the house, add cross bracing and secure the walls to the trailer.

How to build a stud wall frame
Use of recycled framing timber
Calculating window and door allowances
Cross bracing, lintels and securing the frame to the trailer
These are 2 big days! You will learn how to marking out and cut rafters then you'll construct the roof of the Tiny House, lay roof insulation, sheet metal roofing, ridge capping and guttering. You will also learn the importance of water proofing the roof, walls and the critical areas around windows and door openings. By the end of these two days, the Tiny House will be a waterproofed timber frame with an insulated roof.

Marking out and cutting rafters
Constructing a roof
Roof Insulation and waterproofing
Laying sheet metal roofing
Understanding airflow and condensation in tiny houses
Wall wrapping (sarking) and preparation for cladding
Installation of windows
You'll be working with salvaged corrugated iron and recycled weatherboards to attach the exterior cladding of the Tiny House. As well as learning how to install windows and hang a door in the house frame, along with finishing off window and door openings.

Aesthetics of using recycled building materials
How to select and work with salvaged cladding materials
Attaching corrugated iron and traditional weatherboards
How to build a door jamb and hang a door
The final day of the course will be spent putting your new building skills to good use, finishing of the tiny house and adding the finishing touches like corner flashing and exterior trimmings. Before the end of the course there will be time to make sure all your tiny house building questions have been answered.

Laws and regulations around tiny houses and buildings
Transitioning to living in a tiny house
Considerations for off-grid living
Continue to complete as much of the tiny house as we can